Warpwire and cielo24
Warpwire seamlessly integrates with cielo24 captioning to ensure  your security and content management systems to deliver a flexible, accessible and secure process to share your media with confidence.
Requesting Captions on Warpwire
In order to request closed captions, navigate to the Media Info page for an asset. Then, click "+ Add" for captions, you'll be presented with three buttons.
Upload Caption File
Request Caption
View Caption Requests
Getting Started with cielo24 Caption Account
In order to set up a Closed Caption Profile, you'll need an API key and secret from cielo24.
Login to your account at cielo24.com
Click 'Account Settings' in the upper-right of the screen
Click on the 'Credentials' tab
The API Key should be at the bottom of the page. It's a long string of letters and numbers
You can generate a key if one does not already exist for your accounts
Use this API Key, along with your cielo24 username, to create a caption profile following the instructions below.
Caption Profiles in the Warpwire Administration Tool
Okay! With the prerequisites squared away, let's go to the Warpwire Admin Tool and get started!
   1. Select "Closed Caption Requests" from the drop down menu in the upper-left of the page.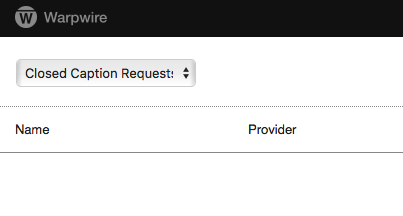 Now, because you haven't set up a closed caption profile, you won't see any caption requests on this page, because no one has been able to make a request yet!
   2. Click "Manage Profiles" in the upper-right of the screen. Then, click "Add Profile" to create your first profile.
   3. When you click "Add Profile," you'll be able to give your new profile a name, and optionally designate it as the default profile for requests.
   4. You'll then select cielo24 as the caption provider you wish to use, and input the corresponding key and secret for that provider.
   5. Select the quality of caption from the provider's options (from mechanical captioning to professional quality) and the desired turnaround time.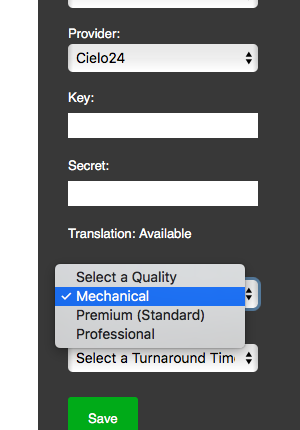 Here is an example of the turnaround time options.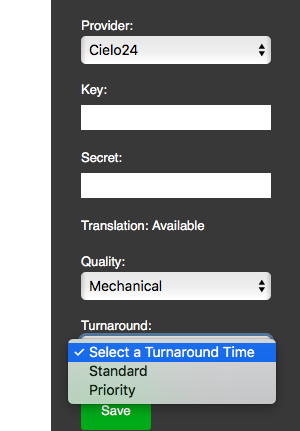 If you have any questions at all, please feel free to email our dedicated Warpwire caption team at: [email protected].