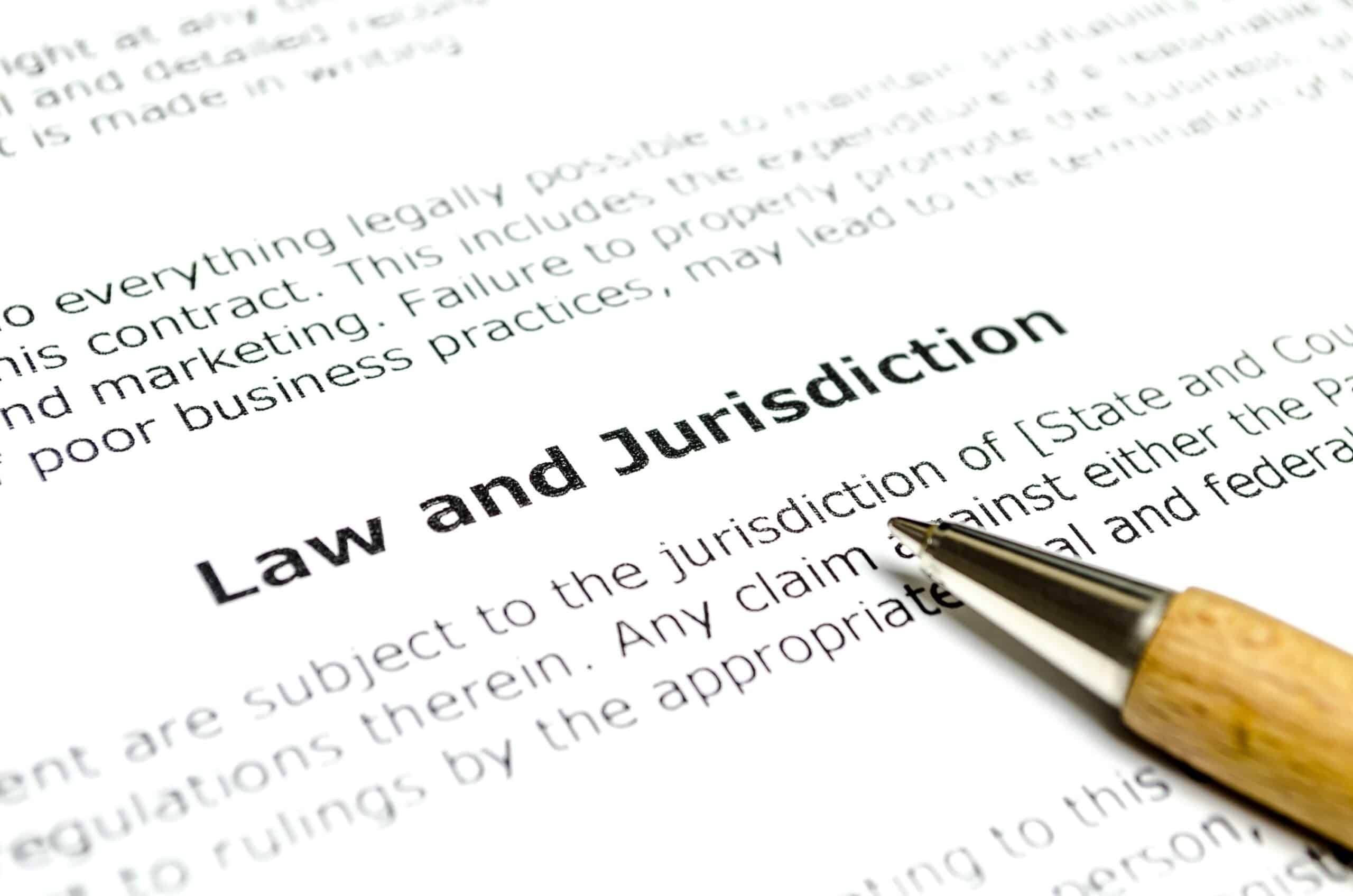 The Impact of the Robles V. Domino's Pizza Lawsuit on Hearing-Impaired Community
In October, the U.S. Supreme Court rejected Domino's appeal to hear their 2016 lawsuit Robles V. Domino's  Pizza about whether a blind man's failure to be able to order a pizza from its website violated the Americans with Disabilities Act (ADA).  The ruling left in place a previous lower court decision against the company.
The case was originally brought by Guillermo Robles, a blind man who sued the company after he wasn't able to order food through their website and mobile app even with the assistance of screen-reading software. Robles' attorneys centered their argument on the notion that the ADA requires businesses with physical locations to make their websites and other online platforms accessible to those with disabilities.
Dominos sought to have the case thrown out, which was initially awarded by the district court that heard the case first. But when Robles appealed that decision, the 9th Circuit Court of Appeals in San Francisco ruled in Robles' favor to let the case proceed. Domino's then appealed that decision to the Supreme Court.
The rejection by the supreme court kicked the case back to the 9th Circuit Court of Appeals, which said, "The alleged inaccessibility of Domino's website and app impedes access to the goods and services of its physical pizza franchises—which are places of public accommodation… This nexus between Domino's website and app and physical restaurants—which Domino's does not contest—is critical to our analysis."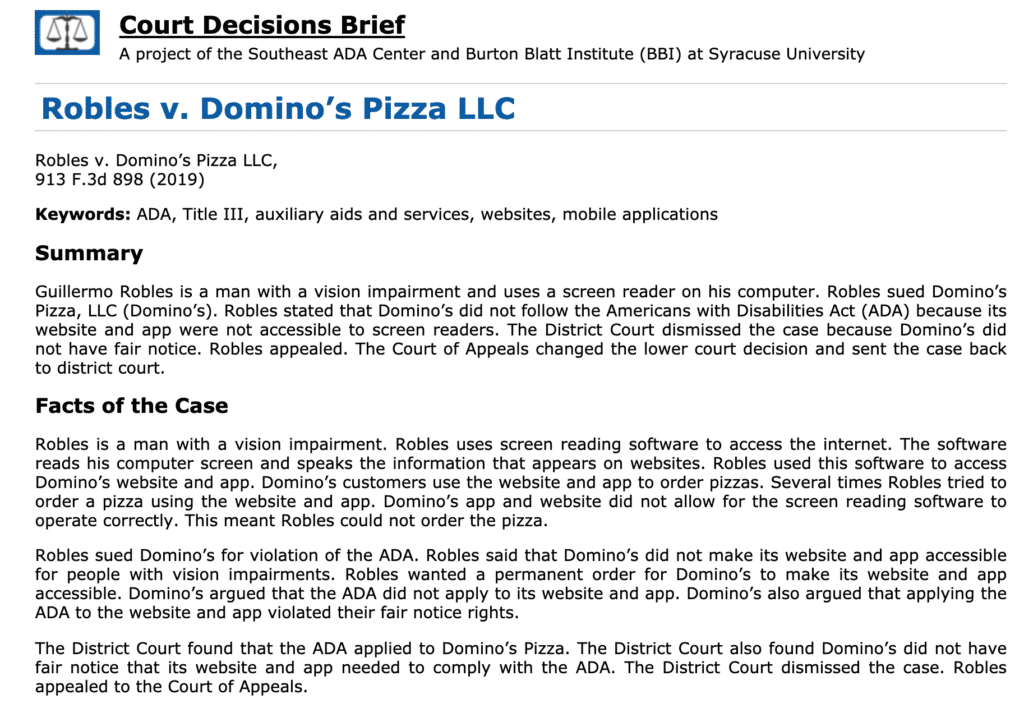 The impact of the Robles V. Domino's Pizza Lawsuit Ruling
Title III of the ADA, the section of the ADA in question, says that companies can't discriminate against disabled individuals "in the full and equal enjoyment of the goods, services, facilities, privileges, advantages, or accommodations of any place of public accommodation by any person who owns, leases, or operates a place of public accommodation."

In the Robles V. Domino's Pizza, the decision to let the case proceed is a big win for people with disabilities, leading to a potential outcome of required website accessibility for all physical businesses. While some may say, this is a loss for Dominos, without accessible websites, disabled people are effectively excluded from large parts of commerce and other life experiences.
The Robles V. Domino's Pizza case will now go to trial, and its outcome is to be determined. But there are still far-reaching implications for all businesses. The Supreme Court ruling to allow the case to be heard puts companies on notice that their physical locations must be ADA compliant, as well as their websites and mobile apps.
If the case rules in Robles' favor, that is.
If the court rules in Dominos favor, it could potentially "destroy the foundation of Web accessibility for basically 20% of the population," said Sina Bahram, an inclusive design expert and president of Prime Access Consulting.

"It's fundamentally terrifying," Bahram continued. "Because if that is a route to make it essentially invalid, then it could invalidate the Web as a place of public accommodation under the ADA. That's really, really concerning".
This is true not only for visual accessibility, but accessibility in general – including auditory impairments and deafness, and the use of video captions, audio transcriptions, and audio description technologies.
How to Add Captions to Videos on your Website

Surely one of the lessons of the Robles V. Domino's Pizza lawsuit is that when it comes to captioning videos on your website, just do it.  There are a number of captioning options available. First and foremost, you can use a tool like the cielo24 video wrapper, which enables you to embed a video on your webpage through the wrapper's many available captioning and display configurations.
Another option is to use a third-party video player like YouTube and embed the pre-established code, which comes with its pros and cons.  And finally, you can caption the video yourself and then embed the file on your website using HTML.
For more detailed information on how to add videos to your website, check out our blog, "How to Add a Video to Your Webpages."
Solutions for Accessible Video Transcripts and Captions
The Robles V. Domino's Pizza is just one of many lawsuits going on. Attending to a corporate website and mobile app infrastructure is important. Regarding public media, providing captions and transcripts is much more simple and affordable than people think.  And while you can protect your business from similar fates as the Robles v. Domino's Pizza suit is highlighting, you can also be on the "right side" of the accessibility equation.  Surfing the Internet or using a phone app should be accessible by as many people as possible regardless of disability.
cielo24 Enterprise-level accounts are available for $1/minute, built around your specific needs, and open up our full suite of features like 16+ foreign language translations, advanced media data, and our video wrapper. You also work with a dedicated account representative who knows and understands your requirements.
Our Self Serve web app allows you to get started immediately ordering video transcripts and captions, without the delay of contracts or quotes. All accounts get a free caption, and transcript – and human-verified transcriptions begin at less than a dollar per minute.
For more information on our video transcription, captioning, and video intelligence solutions, contact us online or call us at 1-855-243-5624.
cielo24 is removing barriers to increase video marketing ROI, searchability, and compliance for all your videos!
 Take a Video Captioning test-drive >>