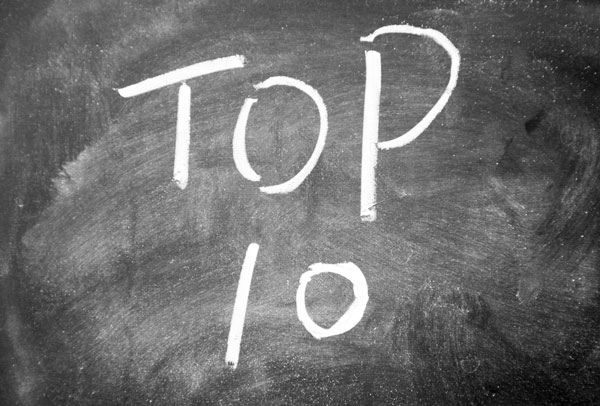 10 Reasons To Choose cielo24 Captioning
The top 10 reasons to choose cielo24 captioning for your next video!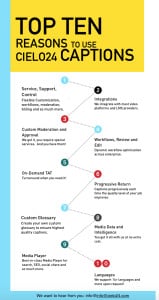 We realize that you have choices when it comes to quality video captioning and transcription. Aside from the 10 Reasons To Choose cielo24 Captioning below, we will work hard for your business!  We consider all of our clients our partners.
It is simple, without your success we will not be successful.
We look forward to hearing from you.  You can also get started on a free trial today.
Multi-Department Service, Support and Control

cielo24 Service: many integrations, workflows, moderation, portfolio access.
cielo24 Support: custom portal page, technical support, video platform integration support.
Multi-Department Control Across Platform: dedicated account management, on-boarding support, and billing services.

Integrations With Most Video Platforms and LMS Providers

Kaltura, Echo360ALP, YouTube, Kontiki, Panopto, Mediasite, JWPlayer, Amara, Brightcove, Media Core, Wistia, Moodle, Desire2Learn, Blackboard, Canvas, MediaSpace and many more.

Custom Moderation and Approval Process

 

 You asked and we listened, these are available across all platform integrations.

Customizable Workflows and Customer Edit and Review Process 

Post processed captions can be edited through a customer edit tool and republished.
Workflow can be dynamically customized across enterprise to fit for each department.

On-Demand Customizable Turnaround Times

We support customizable on-demand turnaround times for professional level quality transcription.
We can provide return as quickly as 3 hours based on service needs.

10 Reasons To Choose cielo24 Captioning

Progressive Return

We can deliver improved captions progressively each time the quality level of your job improves. This can be used to quickly get captions/transcripts produced for a video, without selecting the quickest turn around time service.

Custom Glossary

We accept custom glossaries, to provide for transcriptionist at both an account and job level. Transcriptionists can use information such as key entity names, locations, etc., as notes while creating quality captions for your media.

Media Data and Intelligence

All cielo24 transcription includes media data (timed transcripts) and intelligence (topics, keywords, adwords) to enhance content ROI by powering content discovery, engagement, ad targeting, and asset management. Ask us about our media data solutions.

Media Player Experience

Interactive transcript experience: the transcript is time stamped and synchronized to the video frame.

cielo24 media data player!

Displays cielo24 media intelligence including timed topics, keywords and entities.
Multi language support for native captions and foreign language subtitles.
Content search with heat map including words, topics, keywords, and entities.
For videos with multiple speakers identified, speaker search by color coded heat map and time stamps.
Complete customization including custom settings like social sharing, and transcript download.
Configurable social sharing of selected videos down to the specific caption across sites like Facebook, Twitter and LinkedIn.
Ability to download and print transcripts including speakers and time stamps.

Support 14+different languages

Foreign Languages: Arabic, Cantonese, English, French, German, Hebrew, Hindi, Japanese, Korean, Mandarin, Portuguese, Russian, Spanish and Turkish. Translation and additional languages available on request.
Happy Captioning!