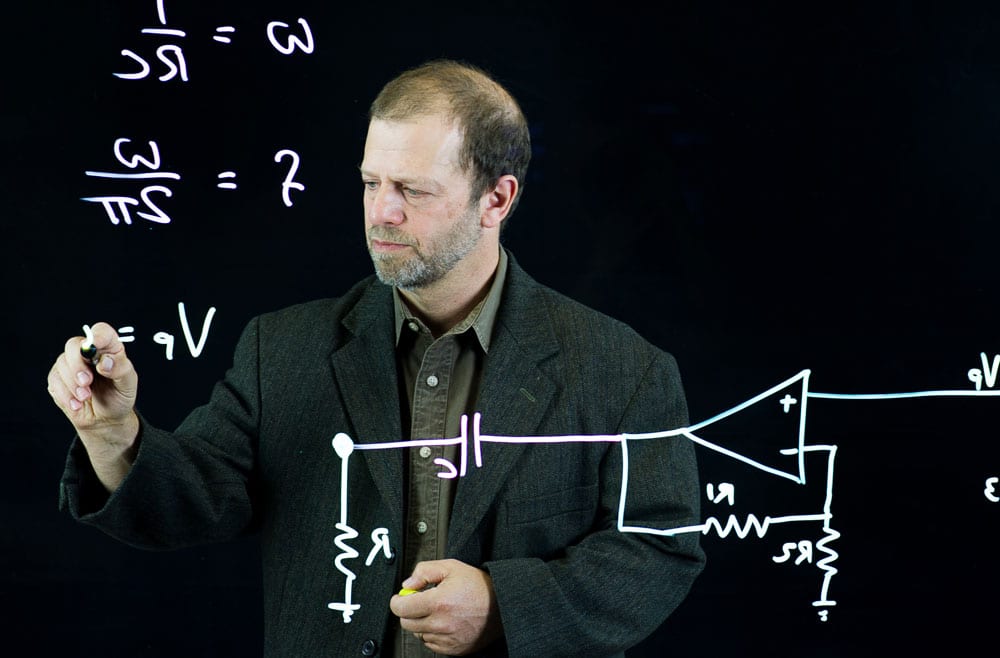 Edtech: Lightboard Changes the Game for eLearning
Illuminate eLearning with a Lightboard
In 2013 Northwestern University professor Michael Peshkin created the Lightboard to shake up his classes and do something more valuable with in-class time. Since then, the lightboard has become increasingly popular with universities and lecture capture software across the country.
If you are an instructor in higher education, this tool can be invaluable, especially for STEM classes. It lets you break up in-class lectures with short video demonstrations or create much more engaging instructional videos for online classes.
You can even make your online classes live. Peshkin did a live broadcast of a Lightboard review session where he used MX Light software to feed a You-tube live stream, and had his students type questions into a google doc that the TA relayed to him while filming.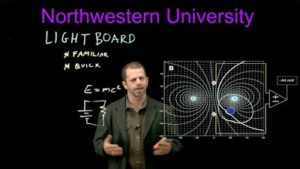 Doing these live review sessions can be really helpful for students whose questions are hard to answer over email. Being able to draw diagrams and work out problems visually is crucial to many STEM and non-STEM classes.
So What is a Lightboard?
The lightboard is an LED illuminated sheet of tempered glass that you can use to record mini lectures. You stand behind the Lightboard facing your students, and write with a fluorescent dry erase marker. Light travels to all parts of the glass by total internal reflection, which clearly illuminates the your writing.
When filming a lightboard lecture, the camera records a mirrored reflection of you so that your writing is not backwards. The filming takes place in a studio equipped with lighting. The studio should be at least 4 feet wider than your lightboard, with 4 feet of space in front of and behind the board.
In Michael Peshkin's words,
The Lightboard lets me draw highly visible sketches and equations as I lecture, work with my drawings in a natural way, face the camera, and capture good quality video without post-production editing.
Peshkin describes how to build a Lightboard yourself on his website, and many other instructors have come up with their own versions. The Lightboard itself costs about $2,000 for the glass and frame, and Peshkin said he spent another $10,000 on video equipment, lighting, cameras and other recording equipment. He notes you can save money on a less expensive camera or by buying a package from Learning Glass Solutions.
For a guide on how to build a Lightboard, visit Peshkin's Lightboard website.
What Should I keep in Mind When Filming a Lightboard Lecture?
Just like for other types of video lectures, there are a set of best practices to follow for creating the most effective video.
Production:
Rehearse your lecture and plan out where you will be drawing.
Running out of space or a lot of erasing may mean you are cover too much for one video.
When you walk on camera, pause in front of the board so you have an easy place to edit out your walk-on.
Five minutes and only one topic is recommended. MOOC research shows engagement drops sharply after 6 minutes.
If students will be watching several videos, you don't need an intro in each one.
Caption your videos to reinforce concepts and aide students may have trouble hearing your video
Dark clothing works best so your writing is eradbaleinfron of your clothing
Behavior:
When writing, look at what your are writing
When talking about something on the board, point to it and look at it
When you aren't writing, look at the camera
Try not to draw over where your face will be
Point from the side so your fingers are more visible
Use fresh markers and a light touch to avoid squeaky writing
When cleaning the board, wipe with a dry cloth first to prevent streaking
Who Else is Using Lightboards?
Various universities across the country have started utilizing Lightboards, as well as some lecture capture software companies.
Some of the Universities include Pennsylvania State University One Button Studio, University of Southern California – Keck School of Medicine, Duke University Notre Dame, University of Chicago CEMSE, Stanford University, Columbia University – School of Continuing Education, and University of Washington.
Companies like Udacity, Rukuku, and Coursera are also making use of Lightboards for their online courses.
The Lightboard is an as open source hardware, so others have adopted the technology and modified it to suit their own purposes. You can view numerous videos of Lightboard demonstrations, how to's, and building instructions on Youtube.
Summary
Back to School season is upon us. Lightboards are one of the newest pieces of Edtech that can make a big difference in your classroom. Not only are the student reviews positive, initial investment is affordable for most academic institutions at all levels.  In some cases communities can use donated equipment, further reducing costs.  For more information about the latest in EdTech trends, join our higher education newsletter.