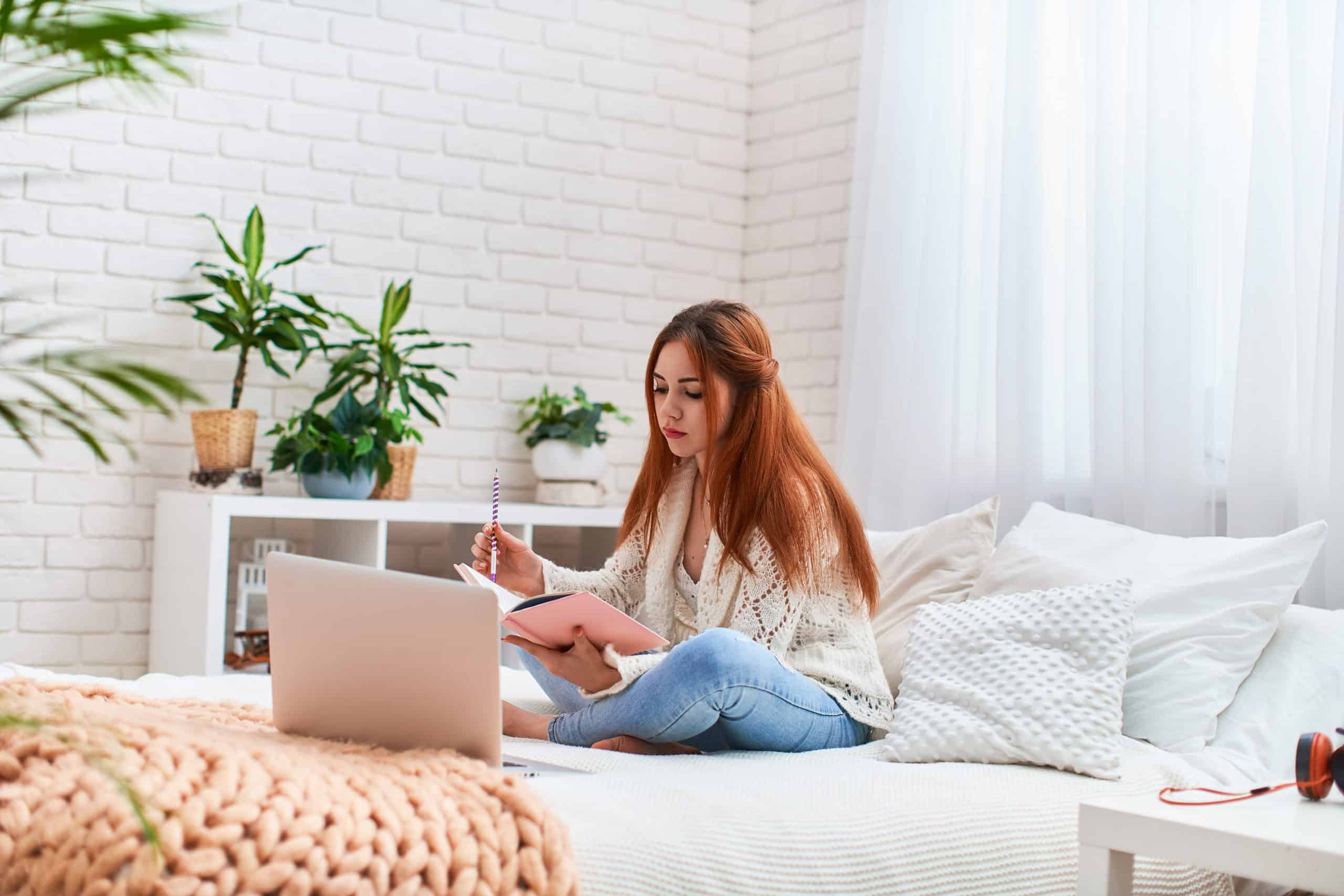 How Successful is e-Learning Really?
Let's all pretend for a moment that e-Learning is a choice and not a necessity right now… how successful is e-Learning really?
Online learning provides your student body with many great opportunities. e-Learning can allow you to offer unique tools, expertise and course content that would otherwise not be available. It can also help students with learning disabilities or physical impairment to participate in education where they might otherwise find it difficult to succeed in a classroom. And if a student cannot make it to class for one reason or another, online learning tools keep the lesson going regardless. e-Learning can certainly be very successful indeed.
But there are drawbacks, as well, that institutions all over the world are currently grappling with. Let's analyze these pros and cons of what makes or breaks the success of e-Learning.
The Drawbacks of e-Learning:
Less Face-to-Face Time
A study done by Stanford found that high-performing students experienced very little impact in their ongoing education when comparing in classroom learning to online courses. However, there is evidence to suggest that lower performing students will struggle disproportionately without face-to-face interaction. This could be due to a number of factors – including economic disparities and availability on online learning tools like Wi-Fi and computers, as well as personal motivation, ability to interact with peers, and more open access to instructors.
This doesn't mean e-Learning is inherently unsuccessful for low-performing students, just that these factors need to be anticipated and addressed by your institution.
Less Collaboration
Some would suggest that e-Learning provides greater opportunity for collaboration. But if your institution hasn't invested in quality e-Learning platforms, connecting students in collaborative ways can be difficult. Where in-class learning can allow for breakout sessions where students move into small groups, your institution will need the right technology to make the same possible online.
However, if you have the right collaborative tools, you can actually improve collaboration and enhance virtual collaboration skills that will be helpful in many vocations.
More Time to Procrastinate
This has certainly proven itself true as many a parent has found themselves standing in as teacher the last few months. Many K-12 students had minimal interaction with their classmates and teachers, and are left to self-direct their learning in between. Some classes only met once a week, and the learning was otherwise done on the student's own time. Without strict discipline, it's very easy to put off learning without the structure of the classroom and the forced and dedicated time.
Again, with the right e-Learning technology and infrastructure, this too can be accounted for.
The Benefits of e-Learning:
Less Downtime During a Crisis
This can be a personal crisis, like a loss of a loved one or personal health issue, a community crisis like a natural disaster, or the kind of global crisis we're currently experiencing that has shut down schools around the world.
Having access to learning materials when your students can't make it to the classroom will help them maintain their education.
Less Cost for All
This is something that has recently become a hot topic for families and institutions alike. Why are families paying so much for elite education when it's all online? It's true that virtual learning can come with great cost savings – if you're not being forced to pay for overhead that you're not using. By building e-Learning into your curriculum you can look for cost savings for both your institution and your students.
Also, this time offers a great opportunity to invest in really fantastic e-Learning courses that will differentiate your institution both in the classroom and online.
More Flexibility in Course Structure
This might be counterintuitive, but online learning platforms can open up all kinds of opportunities for creative course structures. Virtual tools can open many doors that otherwise wouldn't be available or wouldn't be as readily utilized.
For example, e-Learning makes it easier and more feasible to bring in high-end outside expertise. Where in a classroom this expert might be live streaming onto a large screen with a disconnected audience, this same expert can hold an interactive virtual roundtable with that same group, given that each individual is personally logged in from their own devices.
Another example includes using virtual tools like interactive maps versus those in textbooks, or virtual reality experiences to bring far off locations to life.
BONUS ADVANTAGE OF E-LEARNING: Greater Accessibility
e-Learning helps people with physical and intellectual disabilities to participate in education where they might otherwise struggle. For example, a person with vision impairment might find it difficult to get to a physical location consistently without taking an extensive amount of time and energy. Or a person who manages dyslexia might find the more flexible pace of online learning more advantageous to their needs.
How Video Captions Increase the Success of e-Learning
Video captions improve the success of e-Learning outcomes for all students, not just those with hearing impairment. Through numerous studies, it's been proven that captioning on e-Learning content increases reading comprehension, improves GPAs, and makes course content more easily understandable for all students. This includes students with English as a Second Language (ESL), international student bodies, and students with learning disabilities, as well as students with seemingly every standard advantage to their aid.
All in all, the success of your e-Learning depends on your investment into it. Your students will get out whatever you put in. e-Learning can be a wonderful addition to your course offerings, and currently the only choice available.
How cielo24 Works with Learning Institutions to Create Video and Audio Captions, Transcripts, Media Data and Audio Description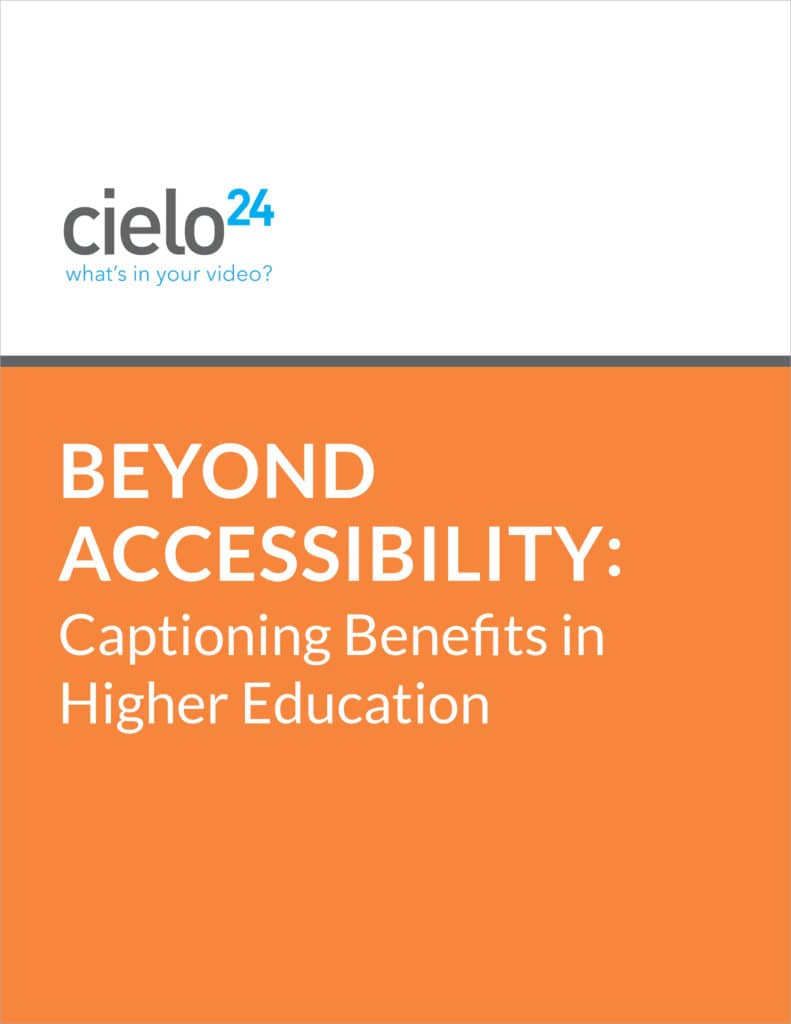 cielo24 proudly works with learning institutions across the globe to create a seamless and accessible online learning experience. Our video captions and audio transcriptions also help to increase engagement, improve SEO, and increase conversions for your digital content.
Begin captioning course video immediately at less than $1/minute. Contact us for a Free Enterprise trial based around your unique business needs. Or contact us online or call us at 1-855-243-5624.
You can also check out our new standard Audio Description solution, which helps schools meet compliance requirements and includes the audio track and visual description of what is happening in the video.