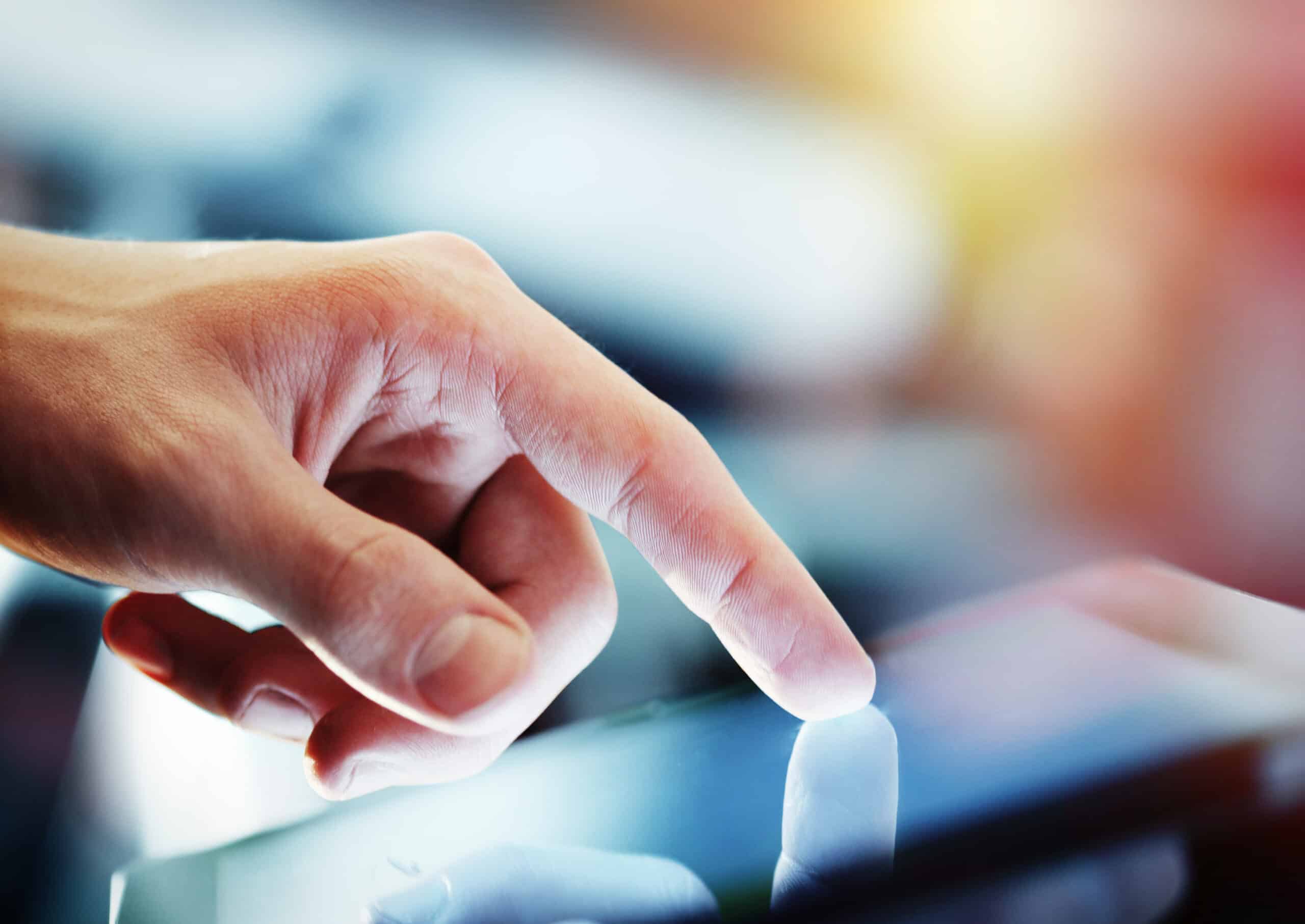 Kaltura REACH Video Captioning For Education
How Kaltura REACH video captioning for education can help you.
Video in the classroom isn't the future, it's Now.  By now we have all heard the statistics for lecture video capture and understand that it is imperative to create high-quality, accessible media.
Kaltura has been empowering educational organizations to make it easier than ever to effectively manage rich media assets and ensure accessibility and compliance.
Educational institutions find themselves challenged to offer an increasingly engaging and collaborative solutions for educators. Kaltura REACH has partnered with cielo24 to provide industry-leading searchable video captions, media data and intelligence to power the effective collaborative media experiences.
Every classroom video experience benefits from captioning, transcription and translation through increased video accessibility, enhanced learning retention, richer user engagement, in video and across library search.
The REACH suite supports captioning, transcription and translation services, in-video and cross-library search and discovery, deep-linking capabilities, as well as metadata and keyword extraction. Let's take a look.
Kaltura REACH Video Captioning Highlights
Access to full suite of workflows (various fidelity, turnaround, foreign transcription, translation options) directly in Kaltura platform.

Industry-Leading media data player to search within video content and across library.

Control can be granted as granularly as who has access, can order, and moderate submitted requests.

Progressive return: the intermittent return of all 3 quality outputs as they are processed within our system.

Immediate return on captions for indexing and search.

No need to worry about up-leveling to meet compliance accuracy.

Quality improves over the course of the day.

Ability to view caption status.

Easy, intuitive access directly from each video.

Ability to edit captions with cielo24 edit tool.

Caption edit available for any caption Fidelity.

Easy, intuitive access directly from each video.
How Kaltura REACH video captioning works:
Kaltura customers can create closed captions, translations, and interactive transcripts with the push of a few buttons. This accompanying text makes videos accessible, searchable, and more engaging in any language. Your media's round-trip integration with Kaltura produces an automated workflow for these services, saving time and reducing effort.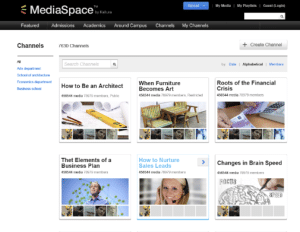 1. With one click, simply enable the cielo24 plugin and start captioning!
2. The cielo24 plugin is supported through KAF and LMS extensions.
3. Customer edit tool access is now available from the 'Actions' drop down of any media entry for permitted user roles.
Get Integrated Services:
Request
Easily upload multiple file formats (HTML5 compatible video formats i.e. .mp4, .mp3, .webm, .wav, etc.) to be processed.  Before submitting a job request you are able to choose preferred turnaround time, fidelity, and language for the transcription to be processed. We support customizable on-demand turnaround times for professional level quality transcription. Read More >>
Authorize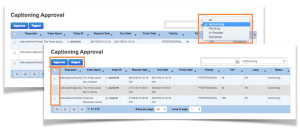 You can enable Customer Authorization including email notifications when a job is queued for approval. When enabled, all requests that are submitted must be approved before processing or incurring costs. Unwanted jobs can simply be deleted prior to processing. Read More >>
Interactive Media Experience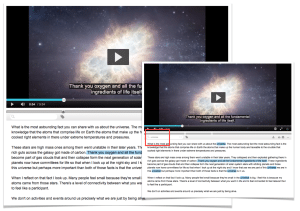 Kaltura REACH provides the ability to search within videos using the interactive media data player:
The transcript is time stamped and synchronized to the video frame.

Displays media intelligence including timed topics, keywords and entities.

Multi-language support for native captions and foreign language subtitles.

Content search with heat map including words, topics, keywords, and entities.

For videos with multiple speakers identified, speaker search by color-coded heat map and time stamps.

Complete customization including custom settings like social sharing, and transcript download.

Configurable social sharing of selected videos down to the specific caption across sites like Facebook, Twitter and LinkedIn.

Ability to download and print transcripts including speakers and time stamps.
Media Intelligence
All transcription includes media data (timed transcripts) and intelligence (topics, keywords) on return to enhance  discovery, engagement, search, and asset management. Read More >>
Process
We process all jobs to perform transcription at your requested fidelities and turnaround times and include optional progressive return functionality to deliver multiple versions of a transcript at each completed fidelity. Read More >>
Customize
Create custom glossaries to provide context for transcriptionist at both an account and job level. You can customize information such as key entity names, locations, etc. as Notes while creating the captions for your media.
 Moderation is available across all platform integrations via a custom approval process. There are so many customization options to choose from. Let us know what you require. Read More >>
Return
Your account can be configured to auto return caption data (captions file, transcript file, and media intelligence).
We also offer a Customer Review option where you can edit and save captions for any job processed prior to returning caption files. Read More >>
For more information about Kaltura REACH, contact us!
Accessibility Links