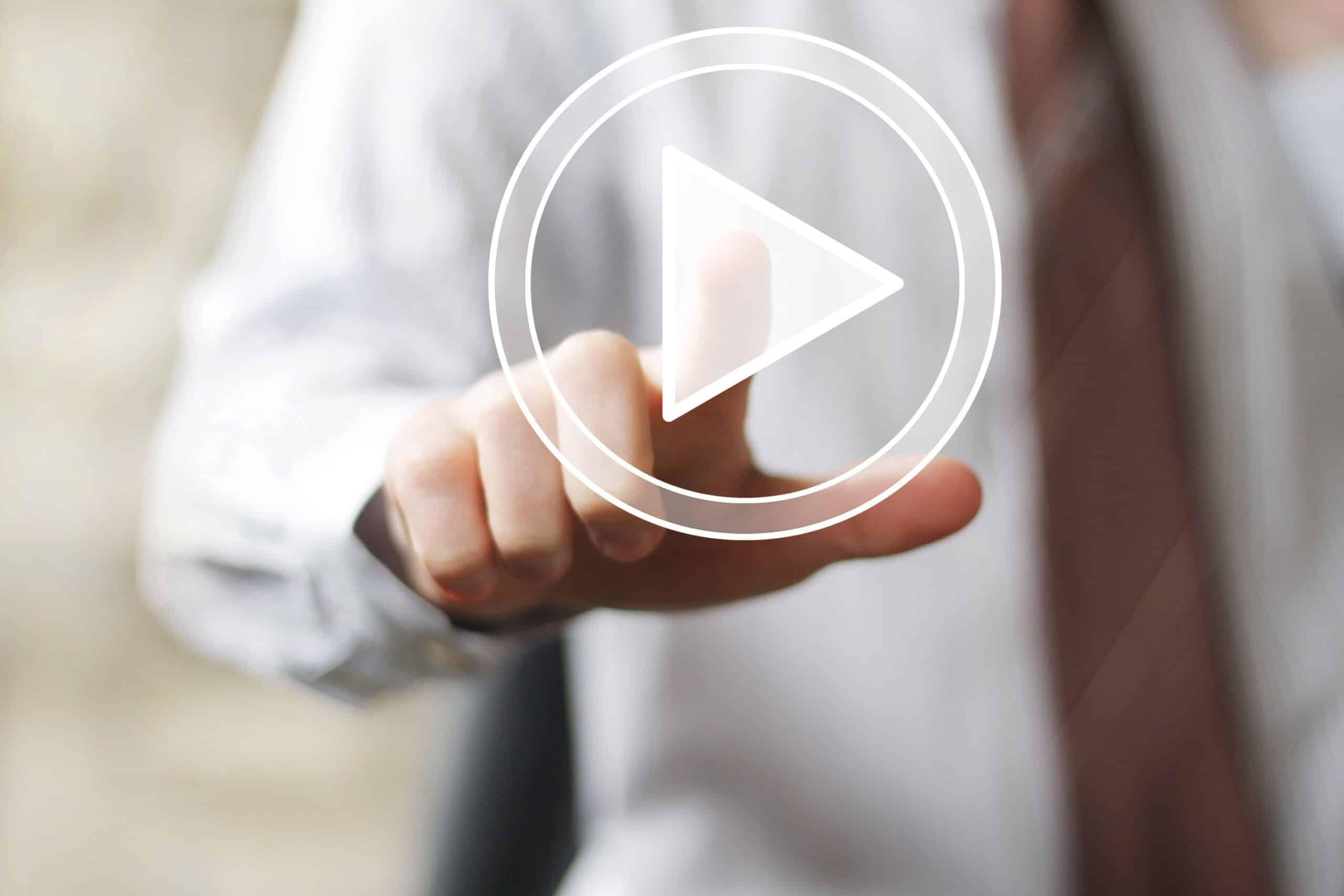 Why Provide Closed Captions in Enterprise? [Infographic]
Should You Provide Closed Captions in Enterprise?
Yes! There are many great reasons to provide closed captions in enterprise. From providing access for people with disabilities to better serving all your customers, closed captions are a pretty great way to improve your business's  videos.
The infographic below summarizes the three main reasons why you should provide closed captions in enterprise and is followed by an in-depth look at each case.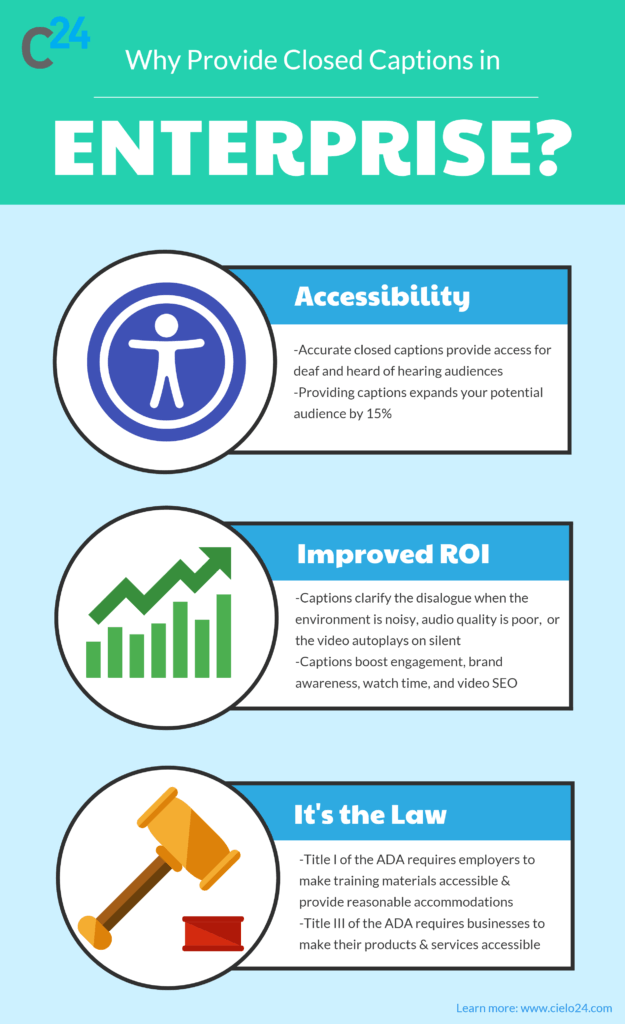 View infographic in a new tab.
1. Closed Captions Provide Accessibility
Closed captions are a vital service for deaf and hard of hearing individuals. Without the inclusion of captions on online video, people with hearing disabilities have no way to access the content.
In the U.S., about 15% of American adults have some degree of hearing loss and over 28 million Americans are considered deaf or hearing disabled.
Whether you create video advertisements, thought-leadership videos, or how-to product videos, it is in your best interest to make these videos accessible to all of your network.
2. Closed Captions Improve Video ROI
Videos are a big investment and a necessary one. Take a look at these staggering statistics on how big video is right now:
For all the work that goes into creating videos for your business, it's a good idea to make the return on investment as high as possible.
Adding closed captions to your videos makes them eye-catching, which is important when 74% of the value in a video campaign is delivered in the first ten seconds.
Additionally, captions increase engagement, brand awareness, watch time, viewer understanding, and SEO. Research has found captioned videos to increase: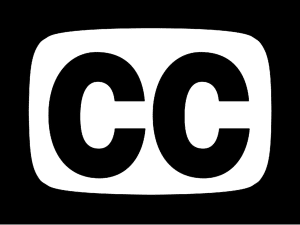 Captioned videos improve video SEO when the video transcript is formatted for SEO and added to the description on YouTube or in the HTML of a landing page.
Search engines can only crawl and index text, so if you want your video to rank, you need to provide a transcript of the video for the search engines to read.  You can find detailed information on formatting transcripts for SEO here.
In addition to all these great research findings, there is also the fact that captions are a useful service for everyone. Research by Ofcom in the UK found that 80% of people who use closed captions do not have any hearing impairment. Rather, captions are useful for solving many of the obstacles related to video, especially in the age of social video.
Sometimes you are in an environment where it is inappropriate to turn on the sound and it's too noisy to hear the sound if you did. Other times the audio can't be turned up high enough to be heard, or there are accents or mumbled speech that make it difficult to understand the dialogue. On social media, videos automatically play without sound and captions make it easier and more enjoyable for social media users to view your content.
3. Wait, It's the Law?
Yes! Accommodating people with disabilities is required by the Americans with Disabilities Act of 1990.
Private sector businesses fall under Title III of the ADA. Title III covers public accommodations and commercial facilities, which includes over five million private establishments, such as restaurants, hotels, theaters, convention centers, retail stores, shopping centers, dry cleaners, pharmacies, and doctors' offices.
The regulations under Title III require that:
No individual shall be discriminated against on the basis of disability in the full and equal enjoyment of the goods, services, facilities, privileges, advantages, or accommodations of any place of public accommodation by any private entity who owns, leases (or leases to), or operates a place of public accommodation. 36.201
And that:
A public accommodation shall make reasonable modifications in policies, practices, or procedures, when the modifications are necessary to afford goods, services, facilities, privileges, advantages, or accommodations to individuals with disabilities, unless the public accommodation can demonstrate that making the modifications would fundamentally alter the nature of the goods, services, facilities, privileges, advantages, or accommodations. 36.302
The rest of the regulations can be viewed here.
What Does This Look Like in Practice?
One way to accommodate people who are deaf and hard of hearing is to provide captions on your videos. Whenever a customer requests assistance, all you have to do is let them know they can turn on closed captions by clicking the CC button.
For example, if you provide a product or service that includes video training on how to use it, that training needs to be accessible to individuals with disabilities at no cost to them. If you fail to caption the videos or provide another equally effective way to provide training to customers with hearing disabilities, you will be violating federal law and vulnerable to a lawsuit.
The most common lawsuits regarding captioning are over employee video training. This falls under Title I of the ADA, which prohibits employers from discrimination in all employment practices, including job application procedures, hiring, firing, advancement, compensation, training, and other terms, conditions, and privileges of employment.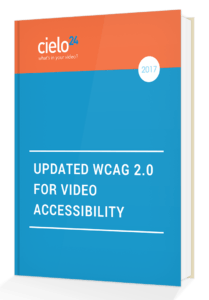 This applies to recruitment, advertising, tenure, layoff, leave, fringe benefits, and all other employment-related activities.
Failing to caption video training or provide another equally effective method, such as a qualified ASL interpreter, means that you are violating federal law.
The best practice for providing accessibility is to meet WCAG 2.0 Level AA conformance. Success criteria 1.2.2 and 1.2.4 require captioning for prerecorded and live video and audio. You can find in-depth information on WCAG's relation to video in our ebook: Updated WCAG 2.0 for Video Accessibility.
Ready to Provide Closed Captions in Enterprise?
cielo24 works with clients worldwide to provide quality captions, transcripts, translations, and video intelligence. cielo24 technology amplifies video discovery, engagement, reach, and accessibility compliance to help media creators and educators maximize video investment through innovative technology.
Our captions are guaranteed to be 99% accurate, even with poor audio quality, multiple speakers, accents, and difficult terminology. You can view a breakdown of cielo24's unique services here and request a quote here
Embed This Infographic on Your Website!